Puppy Love Raw Freeze Dried Feasts
Regular price
$122.95 CAD
Regular price
Sale price
$122.95 CAD
Unit price
per
Sale
Sold out
Our starter box is the perfect bundle for those looking to try our raw freeze-dried feast food. This box comes with a bag of each of our three nutritious and delicious recipes: Chicken Cuisine, Pork Platter, and Surf & Turf. Also included is our pawfect dog scoop and our Puppy Pack of treats and chews. 
Each bag contains approximately 15 cups of food (yields roughly 7 lbs of raw rehydrated food). View our feeding chart below to see the recommended daily portion for your dog. 
Feeding guidelines are a recommendation. Adjust feeding according to the needs of your pet. Our Raw Freeze-Dried food is calorie dense and requires half part water added for rehydration. We suggest splitting up the recommended daily food intake to two meals. Always have fresh, clean water available.
Complete and balanced nutrition for all stages of development. Each whole food ingredient is carefully chosen to create a nourishing and canine-appropriate meal. Puppy Love's freeze dried dog food provides all the benefits of a raw diet without all the hassle and worry. Freeze dried food takes up less space and has a long shelf life. You can store it and take it almost anywhere. Freeze dried food eliminates the risk of salmonella and other harmful bacteria found in 20% of most raw diets. We have put all the research, work, time, and love in a convenient see-through package to provide you with peace of mind. You can feel confident you are feeding your pet only the best!
Puppy Love has expanded our team to include a Certified Canine Nutritionist. Our Certified Canine Nutritionist is on staff fulltime and available with any questions or concerns you may have. We are excited to offer our Puppy Love Pack members this opportunity and hope you take advantage of it.
Share
View full details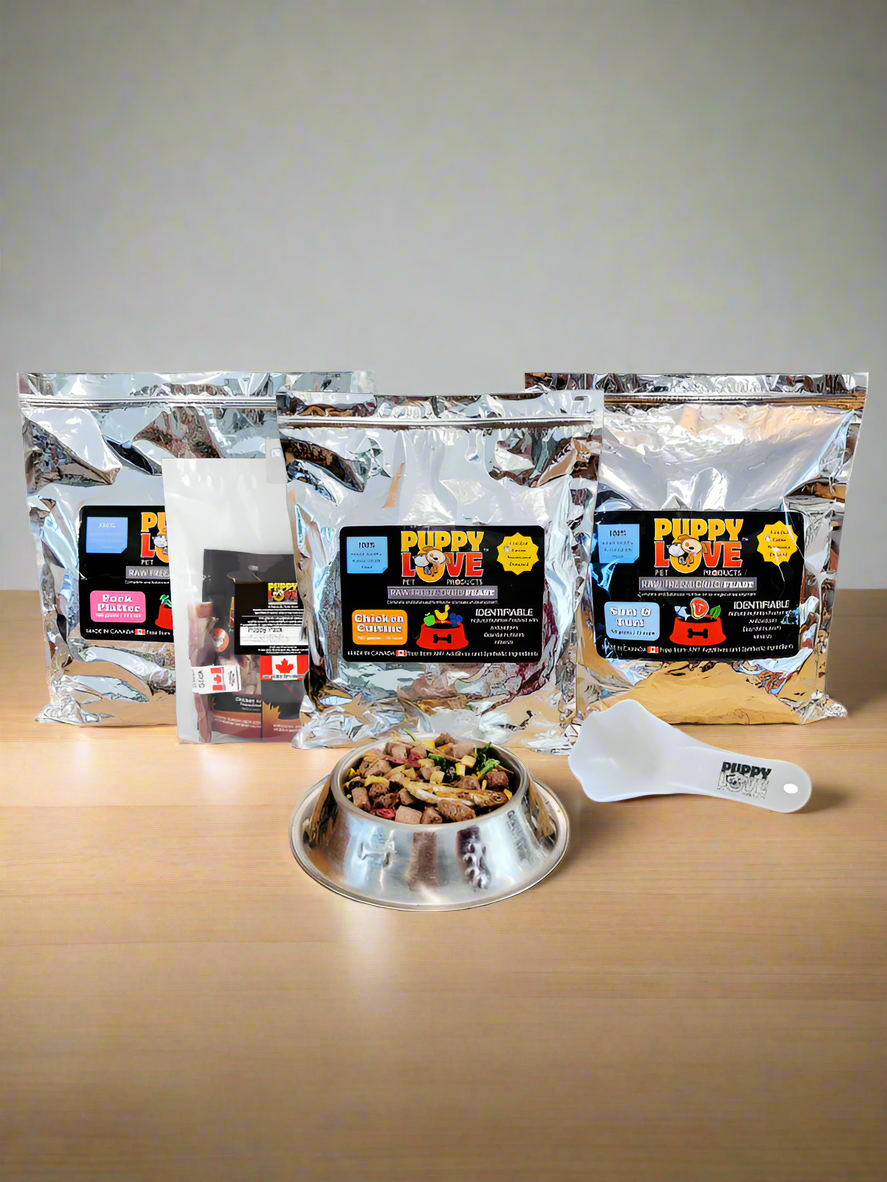 Our Raw Freeze-Dried Feast Recipe
Ingredient List

CHICKEN CUISINE
Fresh Chicken, Fresh Beef Liver, Dehydrated Sardines, Fresh Beet Pulp, Fresh Spinach, Fresh Celery, Fresh Pumpkin, Fresh Carrot, Fresh Apple, Fresh Cranberries, Fresh Blueberries, Ground Bone, Whole Egg, Sunflower Seeds

PORK PLATTER
Fresh Lean Pork, Fresh Beef Liver, Dehydrated Sardines, Fresh Beet Pulp, Fresh Spinach, Fresh Celery, Fresh Pumpkin, Fresh Carrots, Ground Raw Bone, Whole Egg, Raw Crushed Sunflower Seeds, Fresh Apple, Fresh Blueberries, Fresh Cranberries

SURF & TURF
Fresh Beef, Fresh White Fish, Dehydrated Sardines, Ground Bone, Whole Egg, Fresh Beet Pulp, Fresh Spinach, Fresh Carrot, Fresh Pumpkin, Fresh Sweet Potato, Fresh Apple, Fresh Blueberries, Fresh Cranberries, Raw Sunflower Seeds
Nutritional Information

CHICKEN CUISINE
CALORIE CONTENT
580 per 100 grams

GUARANTEED ANALYSIS (100/grams - on an as fed basis)

CRUDE PROTIEN (min.) - 56%
CRUDE FAT (min.) - 23%
CRUDE FIBRE (max.) - 3%
MOISTURE (max.) – 2.6%
CALCIUM – 1.7%
PHOSPHORUS – 1%

PORK PLATTER
CALORIE CONTENT
585 per 100 grams

GUARANTEED ANALYSIS (100/grams - on an as fed basis)

CRUDE PROTIEN (min.) - 55%
CRUDE FIBRE (max.) – 8%
CRUDE FAT (max.) – 24%
MOISTURE (max.) – 3%
CALCIUM – 1.6%
PHOSPHORUS – 1%

SURF & TURF
CALORIE CONTENT
589 per 100 grams

GUARANTEED ANALYSIS (100/grams - on an as fed basis)

CRUDE PROTEIN (min.) - 52%
CRUDE FAT (min.) - 24%
CRUDE FIBRE (max.) - 3%
MOISTURE (max.) – 7%